Come to Know is a series of art interventions in the atrium here at St Peter's. Our title is taken from the words of St Peter when he says of Christ 'we have believed and come to know that you are the holy one of God'. We hope that you find something holy and meaningful as you come into our space and view the artworks.
A Little Lower - November 2022
What is man that you are mindful of him, or the son of man that you care for him? You made him a little lower than the angels; you crowned him with glory and honour. Psalm 8 v 4 and 5
In the Bible we are told that we are a little lower than the angels. The third Come to Know exhibition takes its title – A Little Lower - from these verses. Three artists exhibited this time and angels feature in all their works.
Shaeron Caton Rose, who curated the exhibition, writes:'The artist Leon Varga talks about transience and uncertainty in his piece Grey Dove, three sculptures that appear to be angels carrying backpacks. He says: "created from metal sheets of industrial waste material, Grey Dove representing the exact cumulative weight of all the individual's possession. They are expressing both the potential and the burgeoning weight of our existence." The pull between being grounded or even overwhelmed by everyday life and the soaring of our souls towards hope and faith perhaps.
Salutation by Shaeron Caton Rose is one of two such video works originally shown at Wallspace London in 2009. In this film, golden feathers float and are blown on the air, in the accompanying video a feather is buffeted by wind but remains stoically anchored in place. Go with the flow or fight? Fate or faith?
Shirley Hudsons's Angel paintings, based on tombstones, remind us of our fragility and mortality but also appear strong and resilient, a testament to hope sometimes against all odds. The last few years have been a huge challenge to all of us and the year to come promises further concerns. But this may be just the right time to take that risk of finding faith in each other, in our human spirit and in the divine.'
Click here to view the full A Little Lower photo gallery
Inter-National - Petertide 2022
Our second show as part of our Come to Know programme is Inter-National, works by artist Eva Mileusnic. These pieces reflect on the experiences of peoples who have been displaced, their journeys, stories and sense of cultural identity.
The show consists of three pieces: Inter-National, a large scale hanging made with a repurposed atlas of the British Isles and images of people wearing their national costume; Counter-Flow, foot lasts cast in porcelain and decorated to reflect the different cultural roots of people who have found their home in the UK (see above); and Critical Mass, also foot lasts but made in plaster of Paris. The poignancy of the lasts suggests journeying and transience, they are ghostly reminders of the long and often difficult routes taken by immigrants and refugees to come to our country.
The recent and ongoing war in Ukraine and subsequent exit of peoples searching for asylum increases the resonance of these works, but we do well to remember that the plight of the refugee has unfortunately been a constant in recent years, with war in Syria, Afghanistan and so many other countries and the climate crisis all contributing to desperate journeys in search of safety and peace. Harrogate District of Sanctuary work to support refugees in our area, and their refugee week exhibition in the atrium immediately precedes this show. Please see https://harrogatedistrict.cityofsanctuary.org
Eva is a second generation British/Hungarian born in Dewsbury, West Yorkshire. In her work she invariably refers to the medium of memory and uses personal and found objects that reference and allude to the life of the exile and migrant, reflecting on the existing parameters between theories of identity and belonging. In her current work, Eva uses cultural objects and images to reference current global demographic shifts and the spread of cultural identities. Eva will be selling her foot lasts to raise funds for the Disaster Emergency Committee https://www.dec.org.uk
This exhibition runs from 25th June to 22nd July 2022. The opening event on 25th June from 10:00 am to 3:00 pm includes free artist's drop-in workshops (11:00 am and 1:00 pm). Refreshments will be served.
Click here for inter-national photo gallery
A Place at the Table - Lent 2022
For our first intervention, A Place at the Table, we had a print of Iain Campbell's painting Our Last Supper, by kind permission of the artist. The original artwork resides at St George's Church Tron, Glasgow where it was completed as part of a residency. The Last Supper is the central image to Christianity; it is round the table that Jesus said, 'remember me'. Guests of Glasgow City Mission, who work with the homeless, were selected as the models. People often ask, "which of the people in the painting is Jesus?" It felt important to Iain that no one stood out as a conventional Christ figure reflecting a bible passage which says 'Lord, when did we see you hungry and feed you, or thirsty and give you something to drink? When did we see you a stranger and invite you in, or needing clothes and clothe you?' And he will reply, 'Truly I tell you, whatever you did for one of the least of these brothers and sisters of mine, you did for me.'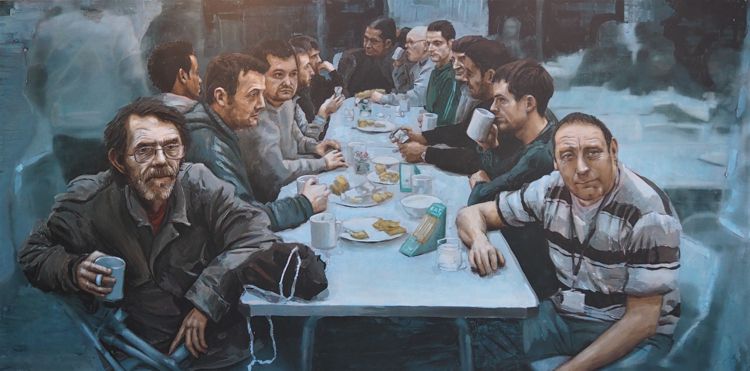 Here at St Peter's, we offer meals on a regular basis to the homeless and so this picture has a huge resonance for us. To complement Iain's painting and to connect his themes with our life here we have invited artist Shirley Hudson to draw and paint portraits of some of our guests. Shirley Hudson is an artist based in Nidd who paints landscape and portraits. Her most recent portrait project was for the NHS Heroes series, in which she created paintings of essential health workers during lockdown. The portraits she has made for A Place at the Table will be gifted to those she has depicted at the end of this show.
Click here to view the full A Place at the Table photo gallery